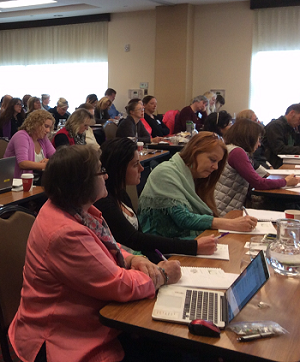 We offer continuing education to Aromatherapists and natural healthcare providers, in addition to basic aromatherapy classes for those new to this natural healing art and science.
Continuing Education:
Our classes have been temporarily suspended due to the COVID-19 pandemic. We are currently developing our classes to be presented in an online format.
Please also visit our sister site www.ijpha.com for class offerings for aromatherapists who wish to earn advanced CPD credits!
Aromaflexology* (formerly Swiss Reflex Therapy)
A 2-day course to introduce basic reflex points on the feet in order to help with client analysis and assessment. Swiss Reflex Therapy is an amalgamation of Aromatherapy and Reflexology, and was originally developed by world-renown aromatherapist and reflexologist, Shirley Price. This excellent treatment is invaluable for the bed-bound and inactive and can be used for the elderly, infirm, pregnant and arthritic, and many more client groups. This practical course is suitable for aromatherapists who want to learn how to use essential oils through the reflex points of the feet to improve the energy and health of their clients. *Prerequisite: Participants must have successfully completed a aromatherapy certification program (minimum 200 hr program). Listen to this podcast to learn more about how this can benefit your practice and clients.
Cost $600, includes workbook, Reflex Cream, jars and supplies for class and five (case) studies. Essential oils available for use in class.
Care of the Elderly
A 1-day course to determine which essential oils are best suited to the frail and elderly, and which methods are the most effective in cases of common ailments. A number of common ailments including incontinence, chest infection, leg ulcers and senility are discussed in detail and also treatment plans and applications for each ailment in the light of individuality.
Cost $200
Emotions and Aromatherapy
This 1-day course explores how aromatherapy can be related to the higher levels of the human mind and being. Chemical properties of essential oils are considered, helping the student to relate mental processes to bodily function. Learning about the deeper influence of essential oils on the psyche improves treatment planning. A wide variety of emotions are explored and explained in context with aromatherapy treatments.
Cost $200
Hydrolats
This 1-day course begins with the source of all life—water. Hydrolats are explained through history, through chemistry, through usage and through their properties. The course will teach about safety in application and administration and several hydrolats will be discussed in detail for clinical treatments. The hydrolats will be tasted and recipes and blends will be recommended to help various ailments and conditions.
Cost $200
Women – Aromatherapy through Life
This 1-day course takes the student on an adventure through life from puberty to the autumn years, using essential oils, carrier oils, hydrolats, skin care and relaxation techniques to preserve inner and outer beauty and peace. This is an enjoyable, interactive day – with plenty of time for discussion around the topic area of women's health and well being.
Cost $200
We also offer fun afternoon classes to teach you about some of the benefits of aromatherapy and to introduce to to the essential oils and how to use them.
Please contact us for more information, to register your interest or to request a class in your area.