We offer continuing education to Aromatherapists and natural healthcare providers, in addition to basic aromatherapy classes for those new to this natural healing art and science.
Continuing Education: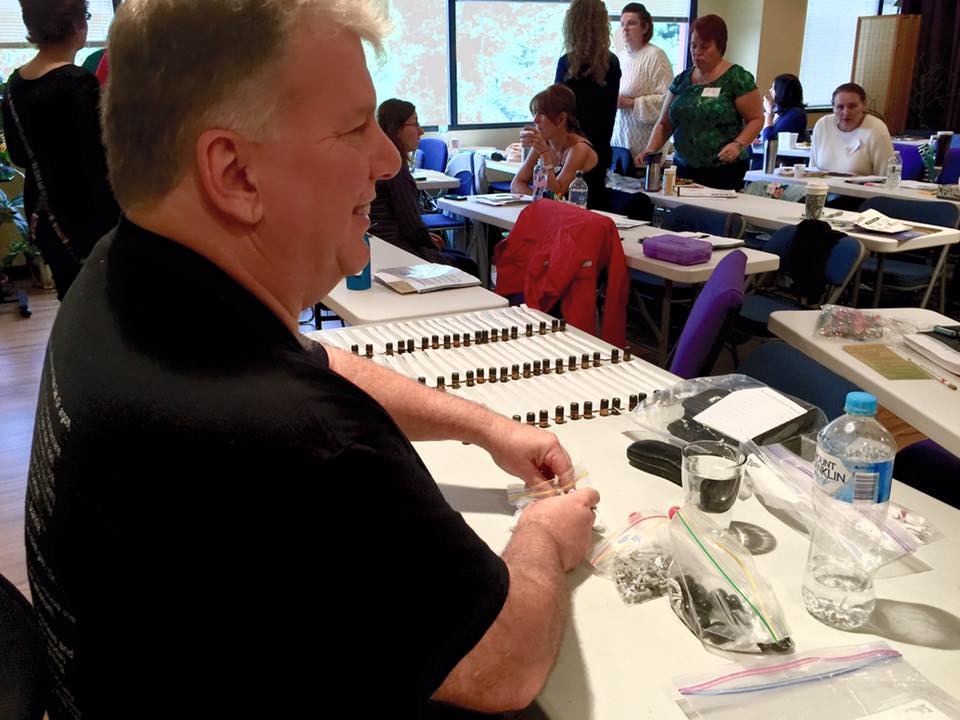 CO2 Extracts – The How, What, Where, When and Why in Aromatic Therapies
2-day Certificate (CPD Seminar) with Mark Webb
Aromatics produced via Carbon Dioxide Extraction (CO2 Extracts) have been around and in use for the past 15-20 years. While some, like German Chamomile and Calendula have become commonplace within the aromatherapy world, there are still many CO2 Extracts with little to no information available.
In this 2 day workshop Mark will delve deeply into the world of CO2 Extracts, looking firstly at the production technology and how this effects the end product. He will compare and contrast a range of volatile and non-volatile, Select and Total CO2 Extracts with their essential and fixed oil counterparts, discussing safe and effective usage within topical and internal formulations.
Mark has over a decade of experience formulating with CO2 extracts. Making him well placed to discuss their uses within the fields of cosmeceutical and aromatic therapies applications. His knowledge about how to incorporate these extracts in food and beverages for both therapeutic and non-therapeutic use enables him to provide a broad range of practical and day to day examples. If you have been curious about using CO2 Extracts, this is the workshop to answer your questions.
Download course components here (Coming soon!)
Dates: October 15 & 16, 2016 (2 days) — 9:00 am-5:00 pm
Venue: Best Western Plus - Boulder Inn, 770 28th Street, Boulder, Colorado Phone: 303-449-3800
For class registration click here
For hotel booking click here Once there, enter "PLUS" in the promotional code box. The special discounted group rates will be present.
Check back for more exciting upcoming programs!
Swiss Reflex Therapy
A 2-day course to introduce basic reflex points on the feet in order to help with client analysis and assessment. Swiss Reflex Therapy is an amalgamation of Aromatherapy and Reflexology, and was originally developed by world-renown aromatherapist and reflexologist, Shirley Price. This excellent treatment is invaluable for the bed-bound and inactive and can be used for the elderly, infirm, pregnant and arthritic, and many more client groups. This practical course is suitable for aromatherapists who want to learn how to use essential oils through the reflex points of the feet to improve the energy and health of their clients.
Cost $425, includes workbook, Reflex Cream, jars and supplies for class and five (case) studies. Essential oils NOT included. Students may bring their own or purchase a set of 10 essential oils for the class (visit our "Products" page to purchase).
Upcoming classes: TBD
Care of the Elderly
A 1-day course to determine which essential oils are best suited to the frail and elderly, and which methods are the most effective in cases of common ailments. A number of common ailments including incontinence, chest infection, leg ulcers and senility are discussed in detail and also treatment plans and applications for each ailment in the light of individuality.
Cost $200
Emotions and Aromatherapy
This 1-day course explores how aromatherapy can be related to the higher levels of the human mind and being. Chemical properties of essential oils are considered, helping the student to relate mental processes to bodily function. Learning about the deeper influence of essential oils on the psyche improves treatment planning. A wide variety of emotions are explored and explained in context with aromatherapy treatments.
Cost $200
Hydrolats
This 1-day course begins with the source of all life—water. Hydrolats are explained through history, through chemistry, through usage and through their properties. The course will teach about safety in application and administration and several hydrolats will be discussed in detail for clinical treatments. The hydrolats will be tasted and recipes and blends will be recommended to help various ailments and conditions.
Cost $200
Women – Aromatherapy through Life
This 1-day course takes the student on an adventure through life from puberty to the autumn years, using essential oils, carrier oils, hydrolats, skin care and relaxation techniques to preserve inner and outer beauty and peace. This is an enjoyable, interactive day – with plenty of time for discussion around the topic area of women's health and well being.
Cost $200
We also offer fun afternoon classes to teach you about some of the benefits of aromatherapy and to introduce to to the essential oils and how to use them.
Please contact us for more information.